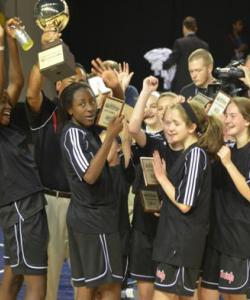 On February 13-17, 2013, Holy Spirit Episcopal School was invited to compete in the NBA ALL-Star jam Sessions Tournament at the George R. Brown Convention Center. Thirty-two top private schools from the Houston area were chosen to compete. On Sunday, February 17th at 12:45 pm, the Holy Spirit Episcopal School Girls Basketball Team advanced to the championship game against Duchesne Academy.
The HSES Saints started out slow, falling behind 8-0 to Duchesne and battled back to win the championship game 24-20; and were crowned champions of the tournament. Congratulations to Chinaza Ndee, Meagan Tucker, Sophia Michael, Julia Lasater, Courtney Cossey, Brooke Fendley, Onuchi Ndee, Kirsten Cossey, Ashley Ayers, and Coach Olguin.
The HSES Varsity girls remained undefeated throughout the season, winning the GHAC Conference Championship, 2 tournaments, and ending the season with a bang at the NBA All-Star Jam Sessions Invitational. GO SAINTS!